Irish Update
Our weekly newsletter for everything happening at St. Mary Catholic School
May Students of the Month
Congratulations to the following students who were recognized as our final Students of the Month for this school year.  The Christian Citizenship theme of May was "Value Self."
L-R Keely Hanson, Connor Bichard, Grant Palmer, Natalie Bush, Brendon Binegar, Max Allan, Kingston McMahon, Nate Frye, Anna Spencer, Kenzi Cunnigham, Maggie Frye, Clara Becker, Sophia Linscott, Gabriella Wocjik and Amelia Schenkel.  Missing from the photo was Tyler Frye.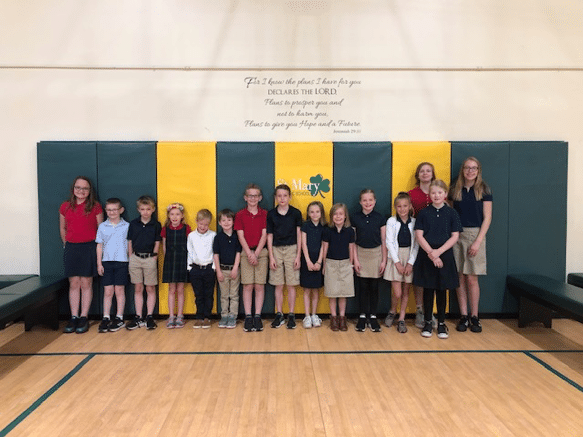 St. Mary Catholic School recognized Volunteers at the conclusion of our All School Mass today.  Thank you to Mr. & Mrs. Bickert, Mrs. Archer and Mrs. Linscott and Laura who were honored this morning.  We appreciate our Volunteers and say "THANK YOU" for all that you do to make St. Mary Catholic School a better place!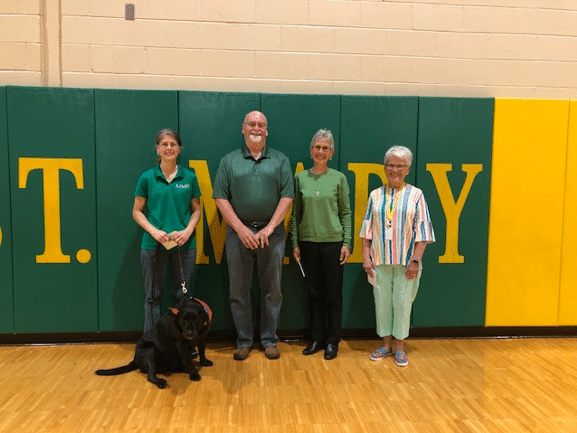 L-R Mrs. Linscott and Laura, Mr. & Mrs. Bickert and Mrs. Archer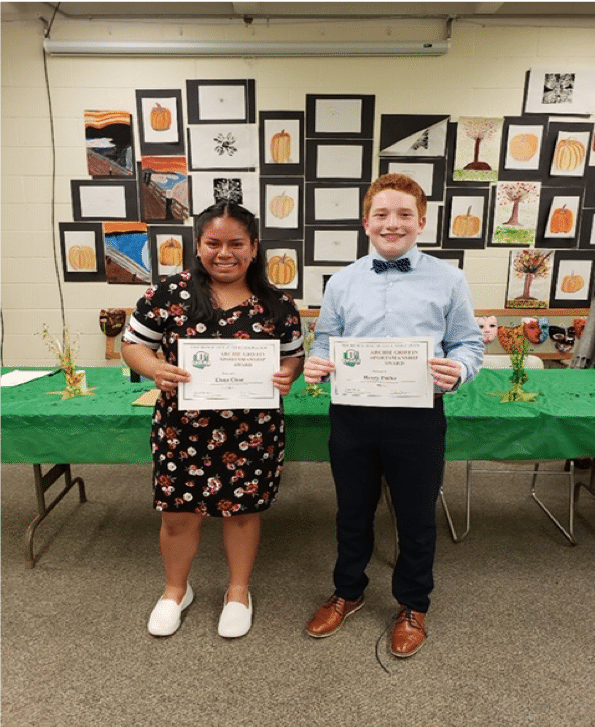 Congratulations to Henry Porter and Elena Cisar who were presented with the Archie Griffith Sportsmanship award at the Junior High Sports banquet this week.   A well deserved honor!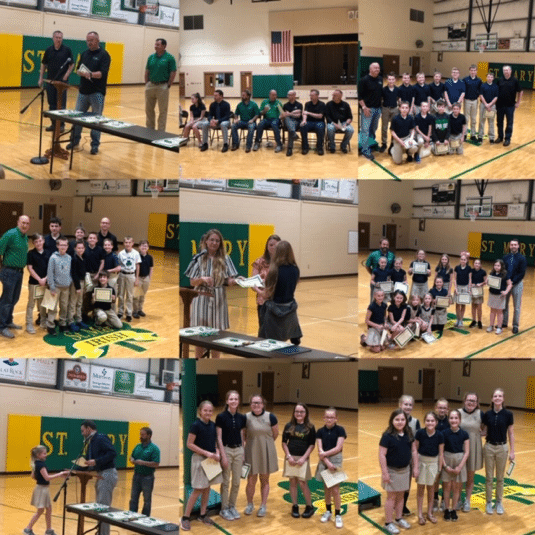 Thank you to the Irish Booster Organization who recognized student athletes grades 2-6 at al All School Assembly last Friday.  Here are a few photos from the Assembly.  The Assembly was enjoyed by all! 
Summer office hours:  Open 9-4 week of May 27th (closed, Memorial Day)-May 31st  Beginning week of June 3rd, the office will be open every Wednesday (first one will be June 5th) from 10:00 AM-2:00 PM.  Closed 4th of July week. 
The uniform closet in need of navy shirts and belts. Please consider donations to the widely utilized uniform closet.  Remember that the uniform color changes to navy and khaki for the next school year.  The plaid option is still in available. 
Yearbook order forms are due to the school office by the last day of school. The order form is attached here.
Please turn in school registration forms before the last day of school for planning purposes. This is of great help to the office. 
May 22nd 8th Grade Graduation Mass, Basilica, 6:00 PM.
May 23rd, 2:45 PM-Kindergarten Graduation, Old Gym.
May 23rd and 24th- State Power of the Pen Good luck to Henry Porter!