Irish Update
Our weekly newsletter for everything happening at St. Mary Catholic School
Thanksgiving Edition, November 21, 2017
Congratulations
Congratulations to the 6th grade class who were the winners of the class contest for the 5K Fall Back walk.  The class was treated to S'mores and hot chocolate courtesy of the Irish Booster Organization.

St. Mary Catholic School Spelling Bee Participants Grades 4–8 
Congratulations to these students grades 4-8 who were the school participants in the School Spelling Bee Competition.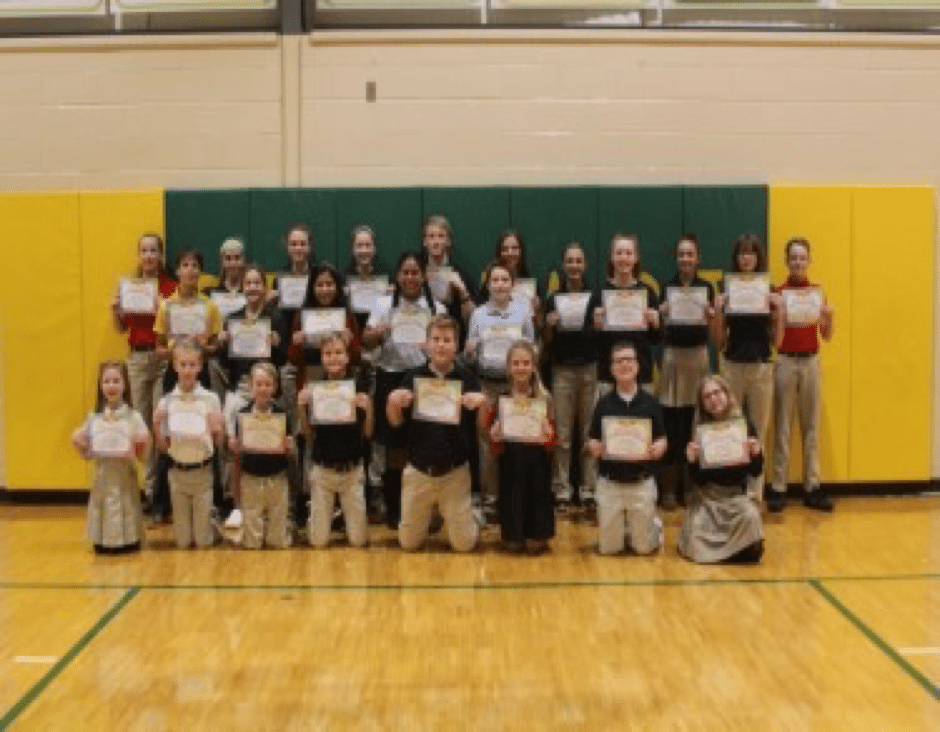 Congratulations to the Finalists of the School Spelling Bee who will represent St. Mary Catholic School in March at the Regional Spelling Bee.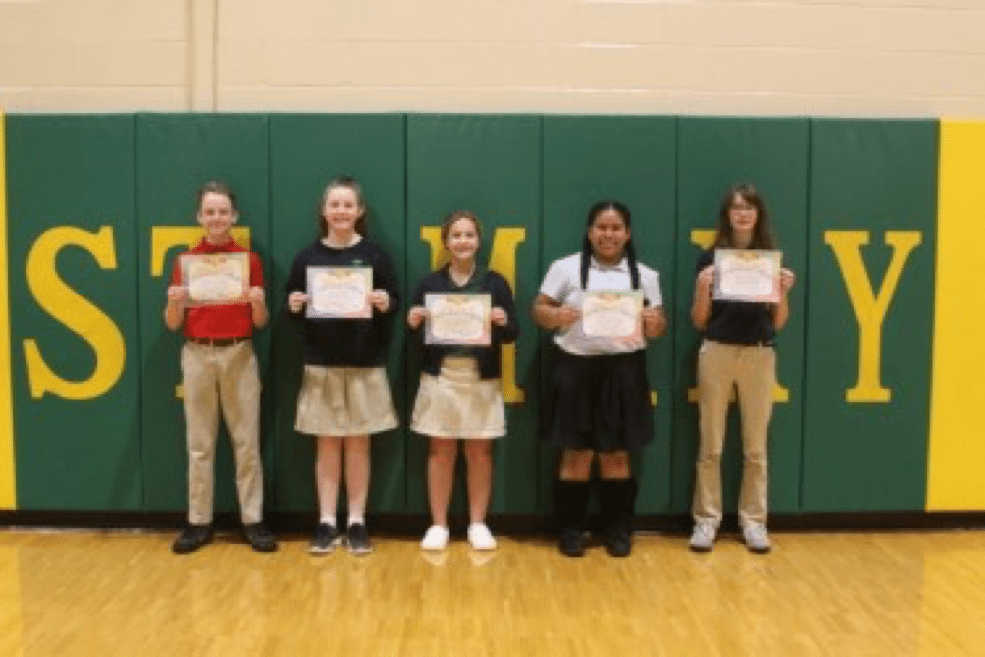 L-R Grayson Linnell (alternate), Addie Betz, Lilly Westbrock, Elena Cisar and Anna Martin.
Congratulations to the 6th Grade Girls Basketball Team
Congratulations to the 6th grade girls basketball team on their winning season and winning the Fall league championship!  This team has played together and have been undefeated since they started playing basketball as a school team in the 6th grade!  Way to go Lady Irish! The team was cheered on by the Lady Tigers basketball team during their championship game.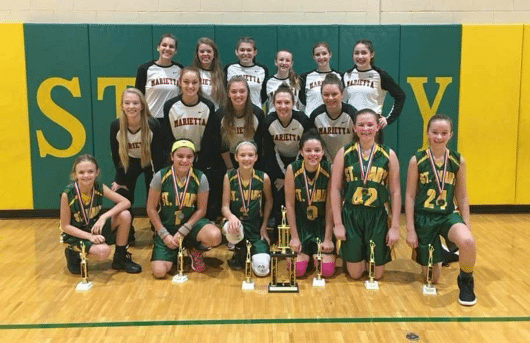 Meet Laura, A Certified Therapy Dogs International Volunteer
Please meet Laura, a certified Therapy Dogs International volunteer for St. Mary Catholic School
Mrs. Shawna Linscott and her Labrador, Laura have been visiting St. Mary Catholic School since September of the Academic year.  Laura is a certified Therapy Dog with Therapy Dogs International (TDI) located in New Jersey. Here is a bit of background on Laura and this amazing program that St. Mary Catholic School is so fortunate to be the recipient of.
At birth, Laura was diagnosed as a summer puppy.  Many puppies with this diagnosis do not make it. Mrs. Linscott did physical therapy with Laura, strenghtening her legs, giving her the ability to walk properly.  According to Mrs. Linscott, Laura displayed an amazing amount of patience, intelligence and love of children from the very beginning.  Her gentle and intuitive nature were all indicators of a possible future Therapy dog.
As a puppy Laura attended puppy obedience classes and completed the AKC puppy star program. This was followed by a couple of sessions of 8 week Basic Obedience classes, then Canine Good Citizen (CDC) classes in which Laura received the title of CDC.  She then tested and received titles for Canine Good Citizen Advanced (CGCA) and Canine Good Citizen Urban (CGCU).  All of this training and testing was leading to the testing to see if Laura could be a Therapy Dog.  The TDI evaluator tested Laura in a 2 hour evaluation.  The first hour was group testing with other dogs, and the second hour was individual testing in which Laura did exceptionally well and was granted as a member of TDI.
Mrs. Linscott and Laura visit St. Mary Catholic School 3 days per week.  They visit 2nd grade, 3rd grade and 4th grade.  They hope to add more classes after the first of the year.  Each day as Mrs. Linscott prepares Laura to visit the school, she asks her if she is ready to work.  Her tail immediately wags and she stands by the door waiting to go to her "job."  Laura wears a TDI red bandana around her neck and Mrs. Linscott says that it is very evident that as Laura enters the school and classrooms, she is in her element.  She wags her tail and greets each child and quickly rolls over for a welcoming belly rub!  The absolute BEST part is seeing the positive impact that Laura is having on each student who individually reads to her.  This is a non-judgemental reading environment and atmosphere for the students to read to Laura in a calming and compassionate environment.  Mrs. Linscott sees that the students confidence levels of reading are increasing and their desire to read grows with each visit.  According to Mrs. Linscott, "seeing the amount of progress makes me very proud and honored to share Laura with St. Mary Catholic School."
St. Mary Catholic School is honored that Laura and Mrs. Linscott share their time and talents of with us.  We are "THANKFULL" for this wonderful program and THANK them for their hours of volunteer time and service to the students!